We are doing our part to stop the spread!
Our offices are temporarily limited to phone service.
You can reach us Monday-Friday 8:30 AM to 4:30 PM (closed noon-1 PM).
Redwood City Office (650) 298-4000
San Mateo-Juvenile Services (650) 312-5396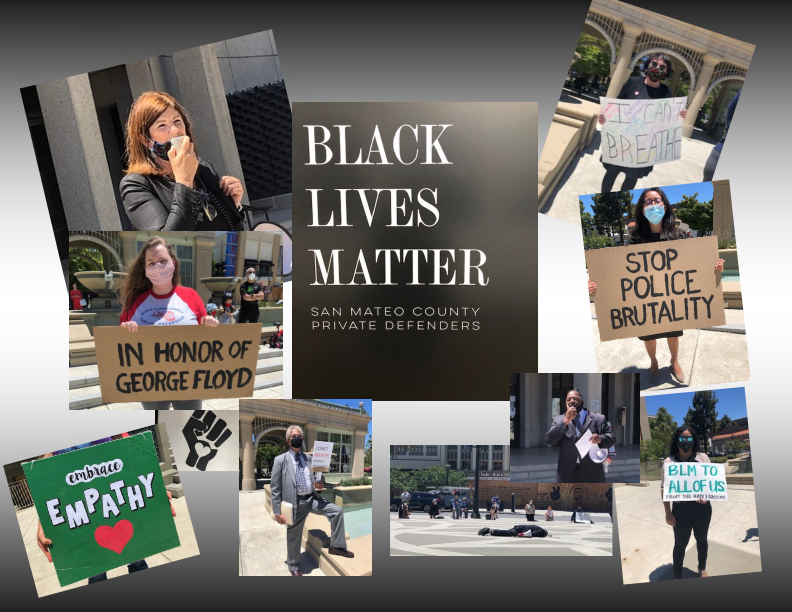 BLACK LIVES MATTER
PDP is commited in ensuring equal justice for all.  We stand in solidarity with Black Lives Matter.
WELCOME TO THE PRIVATE DEFENDER PROGRAM
The San Mateo County Bar Association, a non-profit corporation governed by a 15-member Board of Directors, established the Private Defender Program in 1968 in order to fulfill its promise to provide zealous representation to all those who could not otherwise afford it. 
The San Mateo County Private Defender Program strives to provide the highest quality of indigent criminal defense by vigorously advocating for the rights of individuals facing criminal charges in adult and juvenile courts.  The Private Defender Program consists of a panel of experienced, private attorneys dedicated to the practice of criminal defense work.  The Private Defender lawyers work with a panel of well-trained investigators and experts in a variety of fields to provide the most complete approach to each case possible. 
The Private Defender Program is appointed by the San Mateo County Superior Court to represent all persons financially eligible for the appointment of counsel at public expense, including but not limited to: persons accused of all felonies and misdemeanors, juveniles in delinquency cases, juveniles and parents in dependency cases, and cases brought pursuant to the provisions of the Lanterman-Petris-Short Act.
The Program has established itself as the preeminent private indigent defense organization in the Country.  In August 2012, in Chicago, Illinois, the Private Defender Program and the San Mateo County Bar Association were honored to receive the Harrison Tweed award.  Cited for its pervasive excellence over the prior 43 years, the San Mateo County Bar Association accepted this coveted award presented by the standing Committee Legal Aid and Indigent Defendants of the American Bar Association and the National Legal Aid and Defender Association.