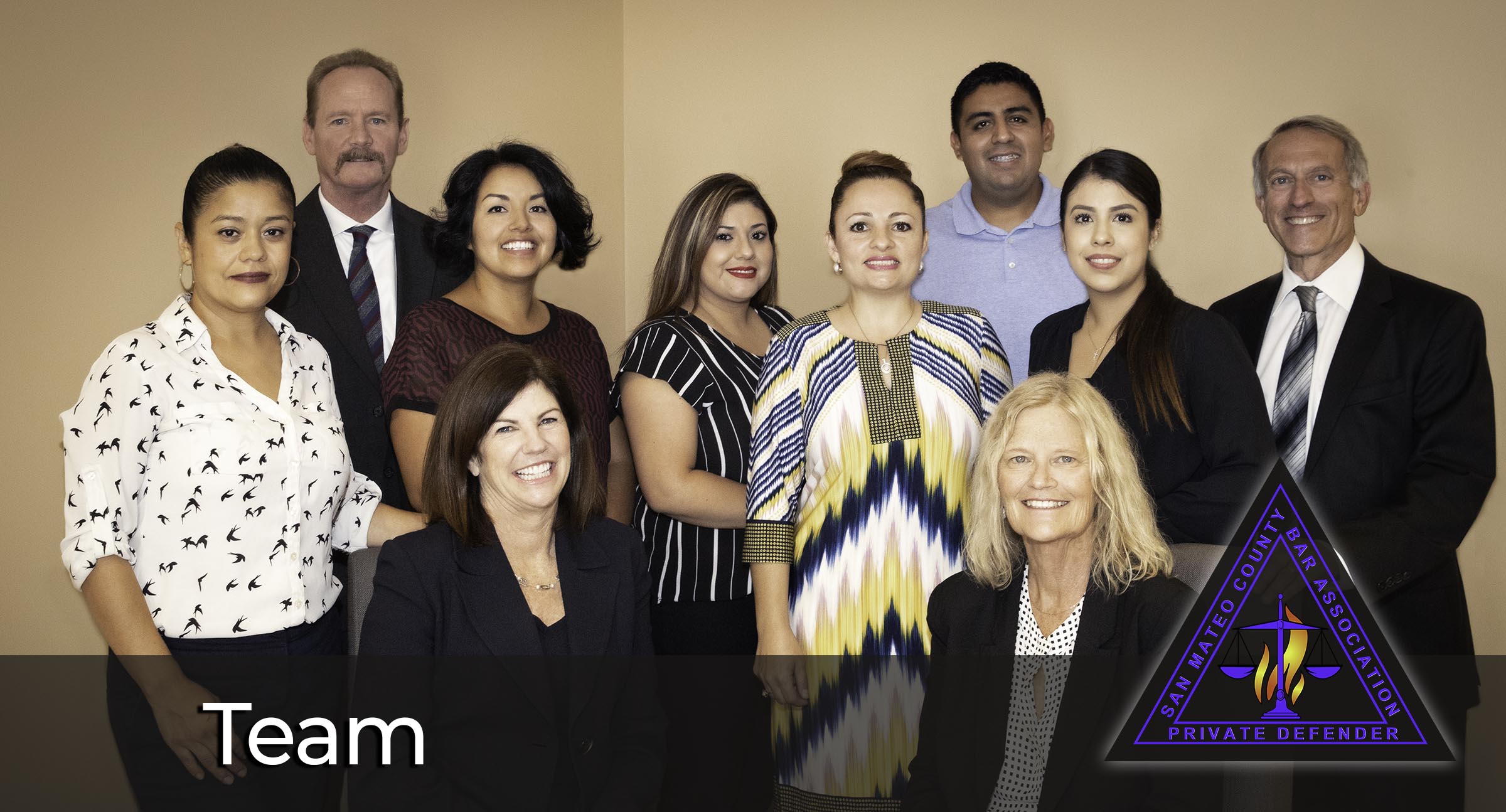 Marlen Marin, John Maness, Elidet Cruz, Idali Acosta, Susanna Guevara, Miguel Ibarra, Elizabeth Ayala, Eric Liberman and sitting in front Lisa Maguire and Myra Weiher
Myra Weiher
Chief Defender
Myra Weiher became the Chief Defender of the Private Defender Program (PDP) beginning in July, 2017 following the retirement of John Digiacinto. After graduating from the University of California at Davis and then Hastings College of the Law, Myra was appointed to defend her first case for the PDP in 1973. During the 42 years that she has defended the indigent people of San Mateo County, Myra has handled virtually every kind of criminal case, including many special circumstance homicide trials and death penalty cases. Myra has a special interest in representing veterans, clients whose cases are related to mental health issues, including people involuntarily confined to mental hospitals under the Lanterman-Petris-Short Act, and those who have been found "not guilty" by reason of insanity. Myra is a member of the National Legal Aid and Defender Association's American Council of Chief Defenders, CACJ, and CPDA.
Lisa Maguire
Assistant Chief Defender
Lisa Maguire became the Assistant Chief Defender in December 2017 after sixteen years of handling Private Defender cases ranging from misdemeanors to capital cases.  While in private practice, in addition to handling some of the Program's most serious cases, Lisa provided mentorship to newer attorneys on the panel, as well as law students doing their internships with the Private Defender Program.  
In her role as Assistant Chief Defender, Lisa assists Chief Defender, Myra Weiher, with overall operations of the Program.  They regularly consult with the lawyers about their cases and the need for experts and investigations.  They monitor attorney caseloads and performance measures.  They also attend community events and maintain positive working relationships with their Criminal Justice partners. And, they work cooperatively with the County regarding budget and contract terms in order to ensure the continued success of the Program. 
Eric Liberman
Managing Attorney
Adult Division
Eric Liberman joined the PDP administration as Managing Attorney of the Adult Division in August of 2013.  After 31 years as a PDP attorney, trying everything from misdemeanors to a complicated capital murder case, Eric has valuable insights and experience that he shares with the younger PDP attorneys he mentors and monitors.
 Eric's responsibilities include observing PDP attorneys at various court hearings.  He is responsible for assigning cases to PDP attorneys and assisting PDP clients and the public with their issues and questions. While Eric was practicing law, he was the trial attorney who raised an issue of parolees' rights in the only criminal case from San Mateo County that has been heard and decided by the United States Supreme Court.
Richard Halpern
Managing Attorney
Juvenile Court
Richard Halpern has been the Managing Attorney of the Private Defender Program's Juvenile Court operation since 2012.  He is responsible for assigning attorneys to those people challenging their involuntary hospital or treatment commitments under the Lanterman-Petris-Short Act (mental health) or under probate conservatorships.
During his 43-year tenure with the PDP, Rick has served on the adult and juvenile panels, handling all levels of adult and juvenile cases, from minor misdemeanor matters to serious felony cases, including numerous Three Strikes and homicide cases. 
Rick has always been actively involved with the PDP, serving as a mentor for a number of attorneys both on the adult and juvenile panels.  He has served on the Private Defender Committee of the Bar Association as well as having been a past chairman of that committee.  He was also a member of the San Mateo County Bar Association Board of Directors.  In 2003, Rick was awarded the Dennis L. Woodman Memorial Award.
John Maness
Chief Invesigator
Chief Investigator John Maness is a former San Mateo County Deputy Sheriff and a former police commander.  He is in his 11th year with the Private Defender Program, managing the Investigations Division.  In his role as Chief Investigator, John has maintained a panel of experienced, well-trained investigators available to assist each lawyer with the investigation of their cases.  He personally reviews each request for assistance and works to match the appropriate investigator with each case based on their background, training and experience.